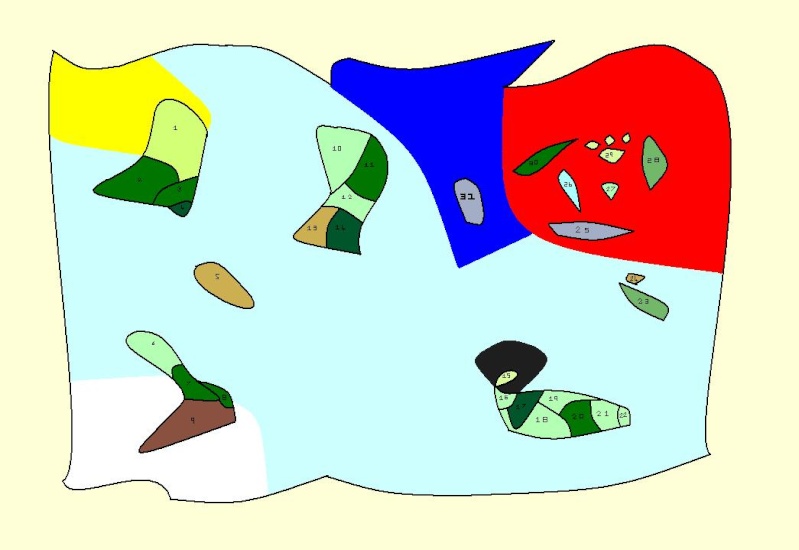 This Map Was Drawn By None Other Than Walther Sigmund Krausberg the VI Or Me! Wally!
Well Gentlemen and Ladies, this design was intended to explain to you the basis of each continent by number key, there are 31 numbers in total, hopefully you can see them aswell as I cant.
Also, as a side note, those coloured areas around the map (excluding the islands) are territorial dominated areas of each faction, as I am sure some may or may not already know.
Now, without further hesitation I will now write the Key:
Key:
Yellow=Order Of The Holy Flame Territorial Dominance
Blue=Azure Templar Territorial Dominance
Red=Client Controll Cooperate Pact Territorial Dominance
Deep Gray=NORD Territorial Dominance
White=Shining Illuminate Territorial Dominance
Now for the areas
1: Gerandos
2: Lasdalia-Firigos
3: New-Caxony
4: Rolande
5: Kaime
6: Tranquilos
7: Xersca
8: Fransera
9: Grande-Imperia
10: Kingdon-Caxony
11: Borsha
12: Jerbosch
13: Sulan-Yeb
14: Vangar
15: Kitsudei
16: Mansao
17: Gravod
18: Ursonya
19: Felmoor
20: Kermig
21: Cyrena
22: Celestia
23: Shattership Isle
24: Brigandane
25: Hellfrost Isle
26: Jel'aman
27: Fable Isle
28: Hauslands
29: Seikoto Cluster
30: Crimsonia
31: Azure Isle